Orlando WordPress Websites
We design, develop and customize WordPress Themes
If you live in Orlando or the Central Florida area and you need a website, WordPress might be the right solution for you! WordPress is a very versatile platform that will allow you to offer many services in your website.
Fill-out the form or give us a call at 407-968-6296.
---
WORDPRESS WEBSITES SERVICES
WordPress E-commerce
Transform your WordPress website into an online store. Some WordPress E-commerce features include: responsive cart, inventory management, related products, product rating, coupon codes, social sharing, showcase products: featured, recent, & categories, PayPal standard payment, standard shipping calculator, tax classes and local tax rates, and guest or registered checkout.
WordPress Membership Websites
Grant limited access to visitors and reserve premium content for paying users. Choose the length of your membership and how often your subscriptions should renew.
Choose to give access to all your content immediately or "drip" it out over the length of the membership.
WordPress Portfolios
Display your work in a professional manner. Showcase photos, audio files, and video galleries that attract customers or employers.
Whether your target audience is looking at your portfolio on a desktop computer or on a cellphone, WordPress portfolios adapt to any device. Even more, WordPress allows you to easily add, organize and edit projects in your portfolio.
WordPress Social Networks
With BuddyPress you you can offer a robust social network in your website.
Some BuddyPress features include: activity streams, user profiles, options to add user profile fields and sections, avatar uploads, group creation, group discussion forums, group logo and wire, friend system, messaging and forums.
---
FREQUENTLY ASKED QUESTIONS ABOUT WORDPRESS WEBSITES
WordPress Website FAQ's
WordPress is a content management system that allows users to create both basic and complex websites. First made famous by bloggers, WordPress is the platform used by many large companies today for web design. WordPress has a convenient interface that allows beginners to navigate their website and allows professional developers to create complex customizations.
Before WordPress, clients had to contact the web developer for every small change to a website, such as updating a phone number. Today you can make small updates to your website on your own when you build your site with WordPress.
The WordPress.org content management system is a free, open source software for web developers. Today 35% of the web is built with WordPress, which includes everything from simple blogs to national brands.
Here are some of the WordPress features that make it so popular: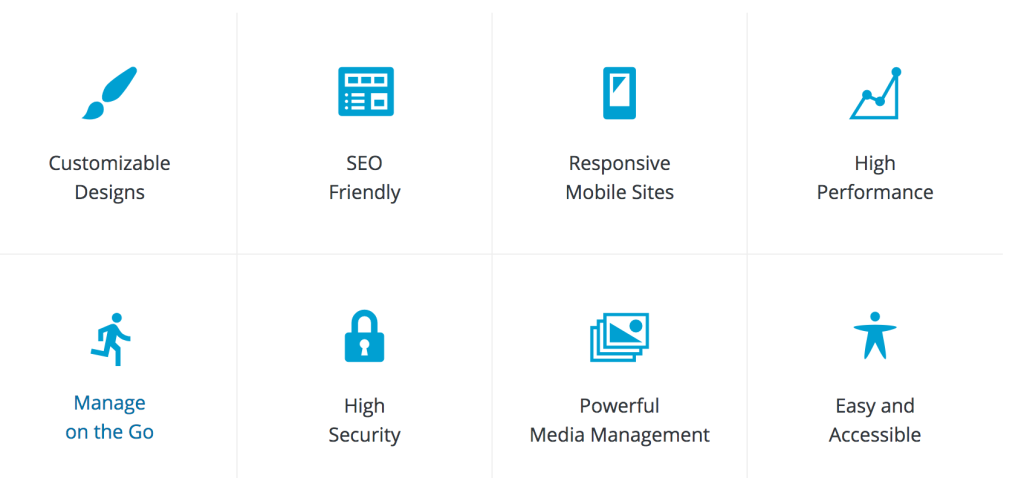 Additionally, WordPress.com offers website hosting with a free option for personal users. For example, if Kate wants to start a personal blog, she can make a free WordPress site with the domain name "KateExample.wordpress.com". To create a website without "wordpress" in the domain name, WordPress.com offers different payment plans. Every business website should have its own domain name to establish trust and legitimacy. In Kate's case, this would mean a paid WordPress plan with the domain KateExample.com.
Using WordPress FAQ's
Yes, WordPress is good for professional websites. Here are some examples of the many large companies that use WordPress websites. One of the advantages of WordPress for a professional website is that it is SEO friendly. WordPress features automatically give you an advantage in competing for top rankings in Google. Additionally, the flexibility of WordPress allows you to add an E-Commerce store and other web apps to bring customers to your website and quickly convert customer interest to sales.
Some functions of WordPress are available that do not need coding. WordPress uses a database where all of the website's information is saved. It also uses a theme that controls the colors, layout, and everything about how the website looks and how that information is presented to the user. WordPress offers basic free and commercial themes that you can use without knowing how to code.
However, if you want to make specific changes to a free or a commercial theme, you will have to know PHP, HTML, CSS, JQuery and WordPress API. If you are not a developer and need help customizing a theme, we can help. We specialize in custom themes and plugins for WordPress. With every website we customize, we ensure that your website's appearance is unique to your company.
Yes, a beginner can use WordPress to add or modify content in a website. However, customizing the WordPress theme does require web development experience.
After the WordPress theme is set up, a beginner can easily add pages and posts. The WordPress editor resembles a Microsoft Word Document for typing and editing your content.
M5 Design Studio creates handouts for all of our clients explaining how to navigate and update the Admin side of your website when we deliver your new website to you.
Web Design & Web Development Services
To learn more about other services we provide, please visit:
---
ORLANDO WEB DESIGN PORTFOLIO